Hi there,
Thank you for what looks to be a promising product. We are testing out Matomo, but have problems with tracking a visitor across multiple domains, despite having cross-domain tracking set up:
Matomo changes the visitorID value of the cookie while changing domains.
I have (of course) tested this in an incognito window.
I have a website where the user visits www.domain_com first, then to signup they go to auth.domain_com and ultimately they get their own subdomain such as customer12.domain_com.
First the cookie looks normal this on www.domain_com.

Then after going to auth.domain_com it looks like the 2nd step in the image below (ie. new name and value).

And then when going to the customers subdomain (like customer12.domain_com), it again changes name and value (but this time keeps the previous cookie alive):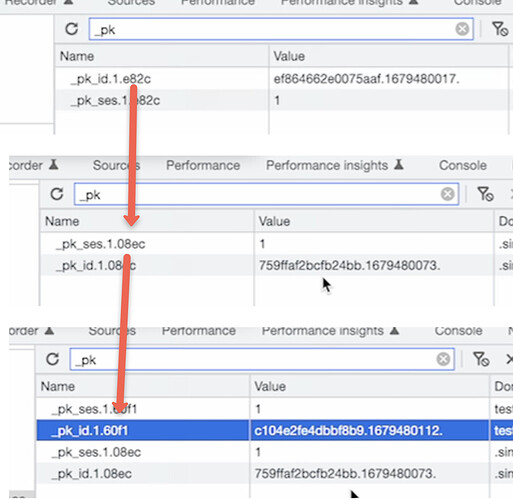 What can be wrong?
I have added all the above websites (ie ".domain.com" as the other sites are subdomains), to the Admin > Websites > Manage and the Tracking Code has "track across subdomains" and "cross domain linking" enabled.
Matomo is tracking this as 1 visitor, but the ID changes, which also means that I cannot get the ID via JS in the beginning and then assume that is the visitors ID for remaining visits :-/
The issue perhaps seems a little similar to Two sessions instead of one - visitor ID and user ID - but I of course do not know if that is true.
What can I do? Did I set something up wrong or is it a bug?
Thank you so much for any help!