Hello team, hello @heurteph-ei
I noticed that texts can be cut off when using PDF files as mail reporting.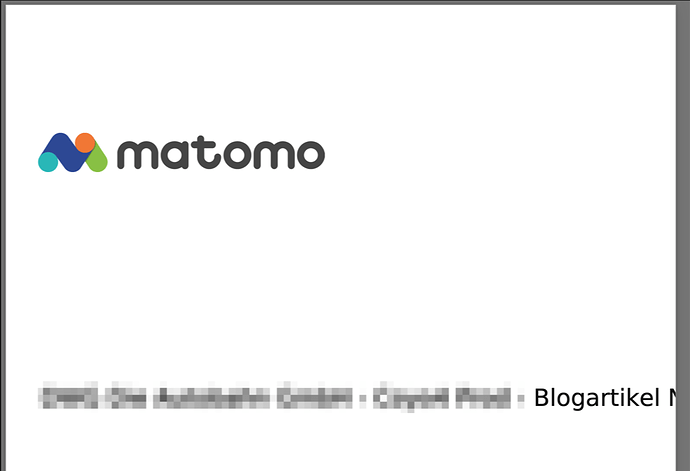 Best
P.
Hi @waldemar1 ,
Could you please explain the context, do you mean number of rows?
Hi @karthik
The unrecognizable part of the report name is the name of the Matomo connection. After this the name of the selected segment is automatically added by Matomo.
If both now have enough characters, the title runs out of the area of the sheet and is not wrapped by line breaks.
Best,
Hey Team.
Any idea?
enjoy your weekend
Hi @waldemar1 can you confirm what version of Matomo you are currently using? we have raised this issue on our GitHub issue tracker as a Bug Report, please feel free to review this here: https://github.com/matomo-org/matomo/issues/19693
And add any comments or further details if you have any. Thank you for your patience and understanding.
Regards,
Hey @V.K
Thank you for replying.
We use 4.10.1 at the moment.
Best,
W.
Hey @V.K
Are there any news?
At the moment we try the "custom reports" plugin and there are some more problems with missing breaklines in mail reporting.

In this case we want to report the page Titel + page URL. The page URL is very long

Could you please check to wrap the given urls to show the whole report on one page? Maybe on landscape?
Now we use Matomo 4.12.0
Best,
Patrick
@waldemar1, you may add some comment in the bug report in the GitHub, I think this would be more efficient…