Quick introduction: My name is Nathan Freitas, and I lead the Guardian Project, an open-source mobile security and privacy team. We are big fans of Matomo and are working some projects that use and build upon it. If you have some specific needs, thoughts, ideas and vision around privacy and security, then read on below, and join us throughout the month of May. Best to you all.
---
I am inviting you, by way of the attached magical ticket, to an online, month long happening like you have never experienced before. Behold, the !!! Clean Insights Symposium Extraordinaire !!!, an online three track circus of death defying acts attempting to navigate and balance between the worlds of user analytics and personal privacy. You will be amazed, you will be inspired, you will have questions, and ultimately you will gain insight, into the potential, the perils and the highly probable outcomes of the great feats that the Clean Insights team will perform in the coming year.
It must be seen to be believed, and can only occur WITH YOUR HELP!
So come along, and join the EXTRAORDINAIRE ----> Symposium Extraordinaire - Clean Insights
Be Part of the Symposium Extraordinaire!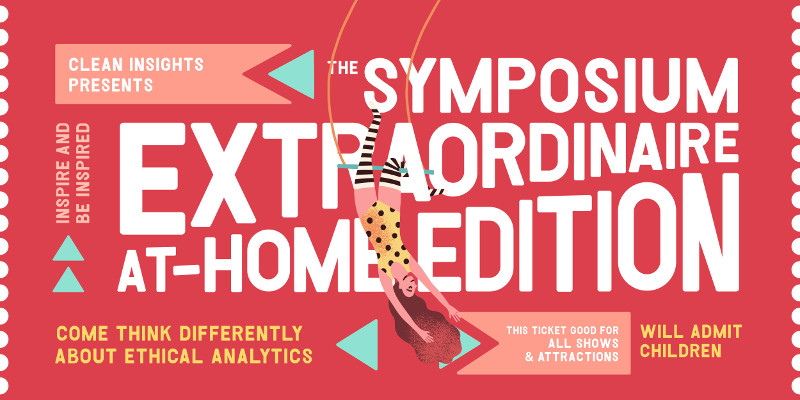 We are living in a time like never before. A time no one has seen, experienced or gone through. There are no experts, no tested measures of success, no right or wrong way to do this. Now is the perfect time for embracing novel ideas!
Join us throughout the month of May as we embark on a new collaborative experience to develop, design and discuss ethical analytics and privacy-preserving measurement! Now is the time to consider new ways to measure your applications and services to gain valuable insights, while not violating the trust and dignity of those you seek to benefit.
This is a chance to collectively enhance the practice of measurement and analytics, by approaching the process in a new way!
What is the Symposium Extraordinaire?
The Symposium will last the month of May. There are 3 topic based tracks for one week each. Each track focuses on a different topic under the Clean Insights concept. Choose to participate in all, some or none of the tracks. The final week of May we will showcase the outcomes in true Symposium fashion!
Opening Keynotes, Talks, and Interviews (via podcast and live chats)

Welcome and Introductions
Clean Insights Team
Presentations of related, similar projects
Sharing by potential implementors, projects in need

Track 1: Open & Actionable Data (data/insights)

Every crumb of data tells a story. Get just what you need.

Track 2: Consent (consent/ux)

Is it clear and understandable what you are asking the user for? And why?

Track 3: Nuts & Bolts for Developers (developer/application)

Demoing and How do I adopt this into my work?

Gatherings and Outcomes

Feedback on the Clean Insights approach
Development Roadmap
Who we are looking for
Anyone with the following skills or experience:

App and Service Developers
Experience with Analytics
Human Centered UX/UI Design
Data Researchers, Analyst & Scientists
Open source projects
Privacy and Security Experts

Anyone who is passionate about this topic
Anyone who could benefit from ethical analytics and privacy-preserving measurement.