Hi there,
I wanted to reach out to share an issue we've encountered regarding Ecommerce Sales Tracking and Campaign Attribution in Matomo. We have successfully set up our Ecommerce tracking, and we are receiving orders attributed to the "Campaigns" channel type under the Ecommerce/Sales section.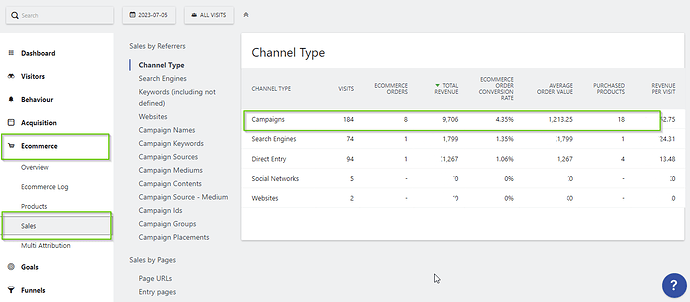 However, when we navigate to the Campaigns section to review campaign-specific details such as campaign names, campaign source, campaign keywords, and campaign medium, we noticed that the "Orders" column and "Purchased Products" column consistently display 0 orders.
We have verified that the orders are indeed being attributed to campaigns as we can see the sales data in the Ecommerce/Sales section. However, we are unable to view the specific campaign details associated with these orders in the Campaigns section.
Secondly in Ecommerce/Products section, we can see product revenue, product quantity, and unique purchases. However, the product conversion rate is consistently showing 0% for all products, despite recording sales and product interactions.
We have checked our tracking setup and configuration, but we couldn't identify the root cause of these issues. We would greatly appreciate any insights, guidance, or potential solutions from the Matomo community to help us resolve these issues.
If you have encountered any similar situation or have any suggestions, we would love to hear from you. Our goal is to ensure accurate tracking and reporting of campaign-specific sales data and product conversions in Matomo.
Thank you all for your time and support. We appreciate your expertise and contributions to the Matomo community.
Best regards,
Areesha Fatima