Issue
When viewing the visits log in Matomo, some of the sessions have pages or actions logged coming from 2 or more different domains. See below screenshot (screenshot anonymised):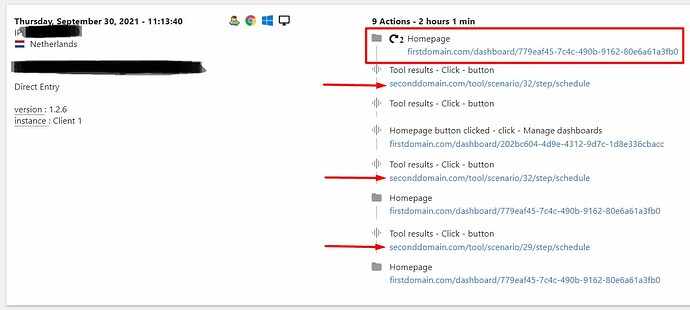 Configuration
We have a (web)application that works locally at our clients servers (on-premise) or in some instances in a cloud environment. All visitors of our application have an account, these accounts are not connected or interchangeable between different environments.
In Matomo we created a single website for our application. In our tracking code we disable Cookies but send a unique user ID based on account information and environment information. So we can never have the same userid. We filter (segment) data per client, so we created custom variables with information like a unique client code (see screenshot Instance: Client 1).
With this setup of Matomo we can see the total usage of our application and can narrow it down per client with segments. This is all working fine except in some rare cases sessions mixup different environments.
We are using Matomo 4.4.1
Any ideas why this could be happening?