I have a paid account for Matomo Cloud. I have tried to contact support, but did not receive any contact so far.
I have implemented the Matomo tag on my website, however, the server is returning a 400 code. Some traffic make it through the platform, but most of the traffic is being lost.
Follow an example of the hit failing -
https://"myinstance".matomo.cloud/matomo.php
?action_name=Mywebsiteurl+title
&idsite=1
&rec=1
&r=369007
&h=21
&m=56
&s=31
&url=mywebsiteurl
&_id=899af054913b0bea
&_idn=0
&_refts=1636062119
&_ref=https%3A%2F%2Ftagassistant.google.com
&send_image=0
&pdf=1
&qt=0
&realp=0
&wma=0
&fla=0
&java=0
&ag=0
&cookie=1
&res=1920x1080
&pf_net=53
&pf_srv=112
&pf_tfr=18
&pf_dm1=626
&pf_dm2=837
&pf_onl=16
&pv_id=hcwoDL
I have changed the parts that could identify my client. This is quite urgent and although the Matomo Cloud says they offer support, I did not receive any response from them so far.
I have tested to create a new measurable, I get the same error.
Please, see attached the point of the code where it fails -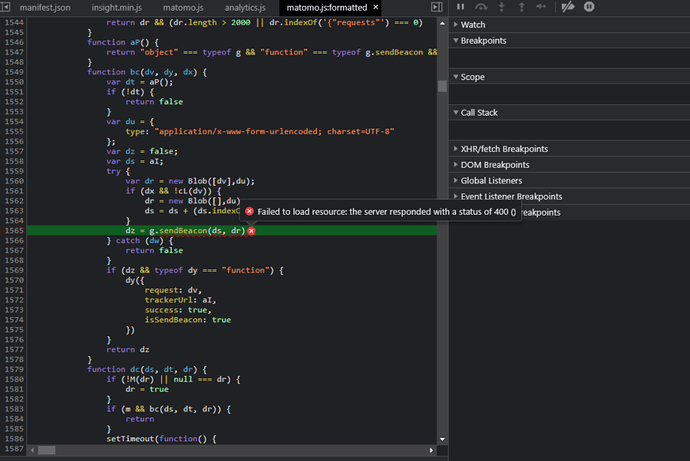 Any help would be appreciated.
Thank you!