Hi, what might be an explanation for having a lot of fluctuation in unique visitors per month, while the number of visits is growing rather smoothly?
Visitors (per month):

Visits (per month):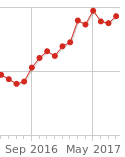 The fluctuation in visits can be explained with holiday times, but for unique visitors I don't understand why the numbers differ so much from month to month. I don't think this can be explained by random fluctuation as it's to be expected for smaller sites, as my site has several hundred thousand visits per month.